What is inbound marketing?
Inbound marketing is a magnet that pulls potential clients to your doorstep. This strategy involves offering free valuable information to build loyalty. If done right, when clients need certain products or services, your company becomes the most obvious choice for them.
Want to talk to us about Inbound Marketing?
Why is Inbound Marketing So Popular Today?
With the digital era upon us, outbound marketing is losing its grip. Since most companies are promoting their products and services online, clients are overwhelmed with the tornado of information. Insistent and often obstinate attempts to sell something are inducing hostile reactions.

Meanwhile, the subtle approach of offering free information works better than ever. With billions of people searching for solutions online, inbound marketing improves conversion possibilities.

Door-to-door sales, cold calls, and print ads are becoming obsolete. Inbound marketing is on the agenda.
Inbound Marketing Tools
Inbound marketing strategy is a collection of different tactics designed to lead the client through the sales funnel. In most cases, marketers use a mix of these approaches. Depending on your niche, some deserve more investments than others do.
According to HubSpot, a company that popularized the term "inbound marketing" in 2006, the inbound marketing strategy consists of three steps.
First, you attract the audience by creating compelling content and helping it appear in search engine results. Then you engage the audience to convert it into a lead and then to a client. Next, you delight the client with stellar customer service.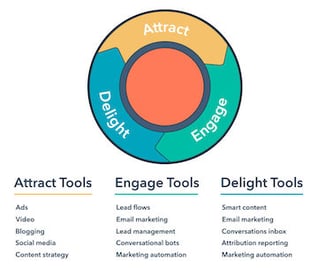 Each step of Inbound Marketing can be achieved by using the right tools:
1. Content
Valuable content is the most important weapon in the digital marketer's arsenal. If you've heard that "content is king", it's a half-truth. In reality, content is king, queen, and the people. To attract the target audience to your virtual doorstep, you need to create high-quality content.
Being an expert in your field and a superb writer isn't enough to produce top-notch content. You need to know structural and placement tricks to make sure your content attracts attention.
Different types of content exist:
Articles
Blogs
Videos
Infographics
Webinars
Guest posts
Social media posts
eBooks
and more
2. Search Engine Optimization (SEO)
Search engine optimization involves using a set of tactics to get your website to the top spots of search engine results. By making sure that the right audience views your content, SEO efforts can boost the traffic to your website and help with lead conversion.

SEO tactics include researching the needs of your target audience and ensuring that your content offers solutions to its problems in the right place and at the right time.

Search engine optimization has become an integral part of any inbound marketing strategy. While it may not generate immediate results, SEO can have an impressive ROI.
3. Social Media Marketing
Social media marketing (SMM) involves using social media platforms to attract clients. With almost 3 billion people using social media in 2020, these platforms are an excellent place to connect with the target audience.
SMM comes in many different forms:
Community management – driving engagement, interacting with followers, offering solutions to problems.
Content creation – creating the right content (text, images, videos) to share on social media and beyond.
Growth – using social media tools to grow your following. E.g. promotions, contests, giveaways.
Social media platforms also offer numerous opportunities for paid advertisements that can drive traffic to your website.
4. EMail Marketing
Even though emails are often used for outbound marketing, they are irreplaceable for inbound marketing tactics as well.

Inbound marketing emails focus on increasing the value of existing clients by building strong relationships and nurturing loyalty.

The "meat" of inbound email marketing is high-quality content. By sending it, you are encouraging further relationships with existing clients or offering value to people who willingly share their email addresses.
5. Search Engine Marketing
For many years, marketing experts have been considering PPC marketing to be an outbound tactic. However, it can be used as an inbound marketing tool just as well.
As your potential clients are looking for answers to their questions, a well-placed ad can help them achieve their goals. These ads can also help you improve visibility and boost your SEO efforts.
PPC can be a vital component of local marketing efforts. For example, if clients are searching for flowers in St. Louis, MO, they don't want to see "top-10 American Flower Shops" or "Best Florida Flower Shops" in the search results. An ad that directs them to a local shop offers a valuable solution.
Creating an Inbound Marketing Strategy
Creating the right inbound marketing strategy can be tricky. It involves substantial research, wide expertise, and a lot of planning. The marketing strategy checklist looks like this:
Creating buyer personas – figuring out who your target clients are and which problems they need solving. A buyer persona is a fictional representation of your ideal client.
Searching for keywords – keyword search is a vital part of any inbound marketing strategy. You need to identify, which words and phrases your clients use to search for your services.
Setting SMART marketing goals – to ensure staying on the right track, you need to set SMART goals that involve such metrics as the number of website visitors, number of inbound leads per month, desired conversion rates, etc.
Outlining Content Strategy – figure out which content you'll be presenting to clients at different stages of the sales funnel.
Integrating SEO efforts – using search engine optimization tactics to get to the top of search engine results.
Considering lead nurturing tactics – engage acquired leads with the necessary information to turn them into clients.
Tons of Resources to Help